I Keep A Flick Of You With The Machete Sword In Your Hand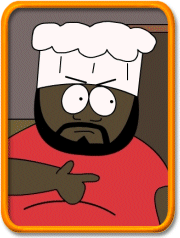 While some people know him only as Chef from the brilliant South Park,
Isaac Hayes
has contributed quite alot to the vaults of hip-hop. His classic "Walk On By" alone has been sampled by Notorious B.I.G. (Warning), Foxy Brown, Cypress Hill, and about a dozen more. Numerous classics sample Isaac including but not limited to Gangstarr's "Friends Vs. BI," OC's "Born2Live," Mobb Deep's "Back At You," and Biz Markie's "Make The Music." Two of my favorite tracks that sample Chef and his chocolate salty balls are the Geto Boys "My Mind Is Playing Tricks On Me" and
MF Doom's
heartfelt "?" Featured below are "?" along with the songs sampled by the Geto Boys and the artist formerly know as Zev.
MF Doom f/ Kurious- ? (link 1) (link 2) (buy it if you're crazy) (1999 Fondle 'Em, 2001 Subverse)
Isaac Hayes- Vykkii (link 1) (link 2) (1976, ABC)
Issac Hayes- Hung Up On My Baby (link1) (link2) (buy it!) (1974, Enterprise)
Audio is available through Yousendit.com. Left click one of the two links for each song. Each will eventually give you the same MP3. Hopefully, my hosting will be ironed out soon and things will be easier.